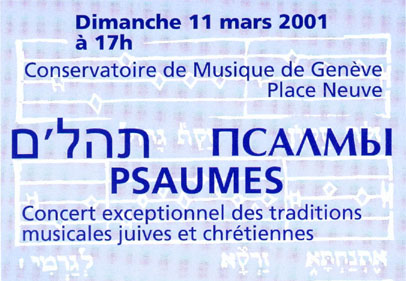 Choral group Milstein : dir. Henri MILSTEIN
Choir of the Russian Church in Geneva : dir. Alexandre DIAKOFF
Choral group Polhymnia : dir. Rachel SZEKELY
Laura Cantagali : organ

This concert brings to your ears various interpretations of psalms following the jewish tradition, the christian orthodox, the reformed tradition and the catholic tradition.
Additionnally to liturgical pieces, you can hear works from Salomone Rossi, Zoltan Kodaly, George Malcolm, Felix Mendelssohn Bartholdy and Bernard Reichel.
Programme and description of the concert.
Our special thanks to the following administrations :
Département municipal des affaires culturelles
Département de l'instruction publique
Loterie de la Suisse romande
Le Conservatoire de Musique de Genève
For further information please contact :